What is Anti-Condensation Performance Evaluation?
Contributes to inducing reduction of condensation within households of apartment housing and securing pleasant residential environment by stipulating items delegated in relation to performance standard for preventing condensation in apartment housing and detailed items required for such implementation pursuant to the 「Regulation on Housing Construction Standard etc.」 Article 14-3.

Subject of certification
Apartment housing with more than 500 households constructed after approval of business plan pursuant to the 「Housing Act」 Article 16.
Evaluation point and submission point of performance evaluation report
After the business plan approval submission date, submit the 「Apartment House Condensation Prevention Performance Evaluation Result」 of Annex 1 issued by the performance evaluation institute to the business plan approving authority by receiving the condensation prevention performance evaluation before the start of construction.
Certification registration procedure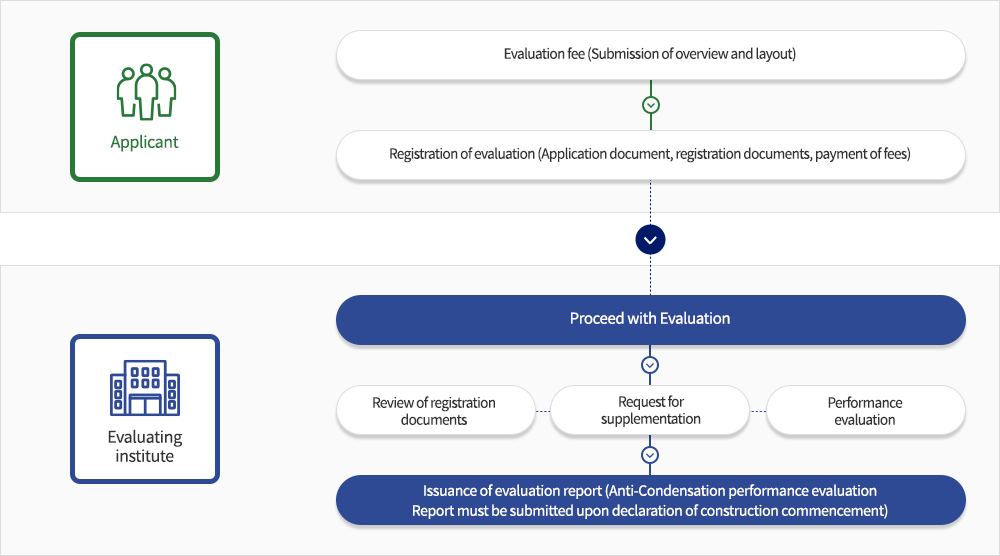 Evaluation period
Less than 10 Evaluation types: 10 business days
Supplementation period excluded from business days
Evaluation method
Guideline and physical test
Simulation